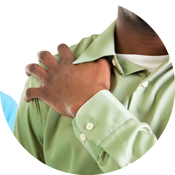 Rotator Cuff and Shoulder injuries can be exceedingly painful and can limit your ability to continue working. Like many injuries, this type of injury can be caused by a single accident or by repetitive stress being placed on your rotator cuff or shoulder.
Whether you have torn your rotator cuff, had a fracture or labral tear, or an impingement, the X-Commissioners can help you be representing you in your workers' compensation case to ensure you receive full benefits.
If you believe you have a rotator cuff or shoulder injury resulting from work, be sure to report the injury and seek medical attention as soon as possible. The X-Commissioners can get you the help you need by representing you and guiding you through the workers' compensation process.